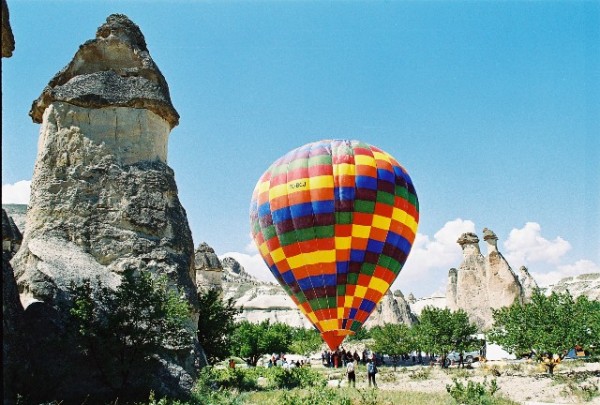 Goreme
Goreme Cappadocia, which hides among fairy chimneys, is the heart of Cappadocia. First period settlement within the region reaches to Roman period from Christianity. Ortahane, Durmus Kadir, Yusuf Koc and Bezirhane churches in Göreme, houses and shafts engraved from rocks till to Uzundere, Bağıldere and Zemi Valley carries the mystical side of history today.
Where to Visit
Goreme, in which there are lots of fairy chimneys and churches, is declared as an open air museum. Tokalı Church, Priestesses and Priests Monastery, Saint Basil Chapel, Elmalı Church, Saint Barbara Chapel, Yılanlı (Saint Onuphrius) Church, Karanlık Church, Çarıklı Church, El Nazar Church, Saklı Church, Mother Mary (Kılıçlar Kuşluk) Church, Saint Eustathios Church and Durmuş Kadir Churches within its territories are valuable to visit places.
Valleys, composed of tuff rocks between Göreme Valley and Aktepe, are known as Büyük and Küçük Kılıçlar. There is Kılıçlar Church within the valley, which has an impressive appearance with tunnels, fairy chimneys in which water ways are passing by and interesting shaped rocks.
Goreme Open Air Museum
Goreme is a wide open air museum, which is under protection with Fairy Chimneys and lots of very interesting churches. The region was one of the most important centers of Christianity.
Cappadocia
Cappadocian region is the place where the nature and history come together with most beautiful scene in the world. While geographic events are forming Peribacaları (fairy chimneys), during the historical period, humans had carried the signs of thousand years old civilizations with carving houses and churches within these earth pillars and decorating them with frisks.